Brain Food #480
Morning pages
Thoughts of the day
Often, we don't know where, or how, to start. No matter the size of the task, the beginning tends to be the hardest, and often the most important part of any project, or any day. That is also why many psychologists advise that making your bed first thing in the morning will propel you towards a better day, giving you a sense of achievement.
The Morning Pages method, written by Julia Cameron in her book The Artist's Way, provides a way to start each day by doing something for yourself.
"Morning Pages are three pages of longhand, stream of consciousness writing, done first thing in the morning. There is no wrong way to do Morning Pages – they are not high art. They are not even "writing." They are about anything and everything that crosses your mind– and they are for your eyes only. Morning Pages provoke, clarify, comfort, cajole, prioritize and synchronize the day at hand. Do not over-think Morning Pages: just put three pages of anything on the page... and then do three more pages tomorrow."
Writing three pages, about anything that crosses your mind, for no other reader, is a private act that helps in discovering oneself as much as it helps in accepting it. A morning date with yourself.
---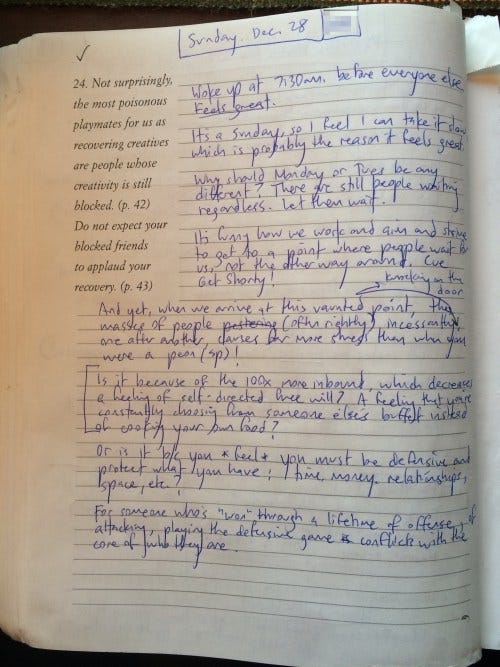 A glimpse at the morning pages of author and entrepreneur Tim Ferris.
---
If you were forwarded this email and you'd like to receive more, you can sign up and receive it daily in your inbox.
And if you love Brain Food and want the world to know about it, feel free to share it with them.
If you have any questions, thoughts, ideas you'd like to share, just hit reply.
Read longer Brain Food musings on Medium.